Bogie had better gangster roles, but
Duke Mantee made him a keeper
Back in 1992, for no reason I can recall, this then-twenty five year old went to the fabulous Ohio Theater to see Casablanca on a big screen. I'd never seen a Humphrey Bogart movie before. I was mesmerized and I now own all but a few of his seventy-plus films.
New York City stage actor Humphrey DeForest Bogart headed west to Hollywood in 1930. He appeared in 12 films with little success and had actually returned to New York, gone back to Hollywood again and given up on Tinsel Town by1934. But Leslie Howard insisted that Bogie reprise his successful stage role of gangster Duke Mantee for the film version of
The Petrified Forest
in 1936. Bogart received rave reviews in the Bette Davis film and would stick in Hollywood (It's not overstating that without Howard, there would be no "Bogie." Bogart named his first born, daughter Leslie, after the actor).
Starting at 6 AM EST on Thursday morning, Turner Classic Movies is all Bogie, all day.
TWELVE
movies starring the film icon, a documentary and a couple shorts. If you're a Bogart fan, clear some space on that DVR. If you aren't a devotee, watch a few films and see what you're missing. I've included some trailers so you can check things out. The American Film Institute decreed Humphrey Bogart the greatest American male actor of all time. I agree.
6:00 AM - Bogart: The Untold Story
This one hour documentary is hosted by Stephen Humphrey Bogart, his son. It came out in 1996 as a cross promotion to Stephen's book,
Humphrey Bogart,
In Search of my Father.
It's got some pretty good stuff in it.
7:00 AM - High Sierra - 1940
http://www.youtube.com/watch?v=QePONKgWBZ0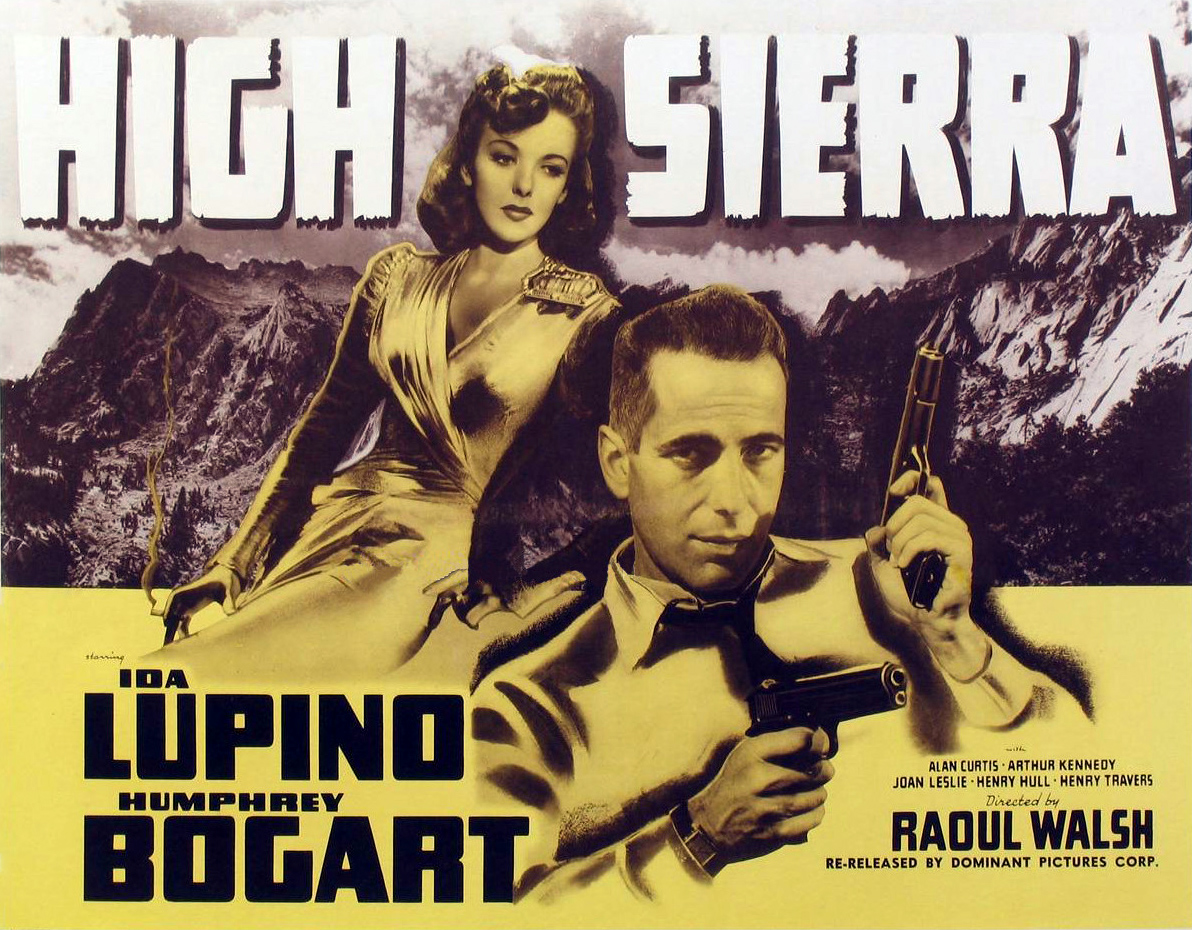 Bogart would make 28 more films through 1940, some good, some bad, but none making him a star. Then, after George Raft turned down the lead in
High Sierra
, Bogie ended up playing Roy Earle, the killer with a soft spot. Bogart, opposite Ida Lupino, was a hit in the film with a screenplay by a promising screenwriter, John Huston (son of actor Walter). This remains one of Bogart's finest roles.
8:50 - We Never Sleep
This is an 8 minute documentary from 1956 on the Pinkertons, America's most famous detective agency (Dashiell Hammett was a 'Pink.') I don't believe Bogart is in this. It's just a thematic time filler.
9:00 AM - The Maltese Falcon - 1941
http://www.youtube.com/watch?v=7h19sLhvvlg
I mentioned that George Raft had turned down
High Sierra
. Well, he also passed on the Falcon, not wanting to do a remake with a first time director; John Huston. He reminded Jack Warner that the studio boss had promised him that he would only have to make "important pictures." Raft, who had been brought in to Warners as a top dog, was all but finished as a star, while Bogart beacme a legend. Without
The Maltese Falcon
, it's quite possible that Warners would have continued simply using Bogie as a screen filler. Check out the film Bogart made after High Sierra (
The Wagons Roll at Night
): Warners still didn't know what to do with him.
A movie everybody should see at least once. Dashiell Hammett's tale of Sam Spade is rightfully considered the finest private eye novel ever written. This, the third filmed version, is the best PI movie ever made. Rivals Casablanca for my favorite Bogart film. An absolute must see with a fantastic cast, including Sidney Greenstreet's film debut.
You can read about Raft's boost to Bogart's career in my essay,
How George Raft Made Humphrey Bogart a Star
. It's quite a tale:
http://bogart-tribute.net/fan/byrne3.shtml
10:45 AM - To Have and Have Not - 1944
http://www.youtube.com/watch?v=cXy3tF5uD6A
Ernest Hemingway bet director Howard Hawks that Hawks could not make a good film out of his worst novel. Hawks changed some things around, but I think he won that bet. The 45 year old Bogie, in his third unsuccessful marriage, met his future fourth wife, 19 year old Lauren Bacall, during the making of this film. This was the one that took and Hollywood's most famous celebrity couple would make three more films together. One of Bogie's most enjoyable films to watch, with a couple supporting actors from
Casablanca
. Highly recommended.
12:30 PM - The Treasure of the Sierra Madre - 1948
http://www.youtube.com/watch?v=IIDlYsedmXo
Another John Huston-Bogart production, co-starring Huston's father, Walter. This tale of what greed does to a man features one of Bogie's most compelling performances as Fred C. Dobbs, a down on his luck American who hits the jackpot as a prospector in Mexico. John Huston makes an early cameo and the famous (though misquoted), "Badges? We don't need no stinkin' badges" comes from this film. Another must see in the Bogart library.
2:45 PM - Tokyo Joe - 1949
http://www.youtube.com/watch?v=JxGRK5JPoKU
Tired of having to take so many mediocre parts (Bogie famously said, "I've made more bad films than any actor alive"), Bogart formed his own company, Santana Productions. Though revolutionary (Jack Warner was furious, afraid other stars would follow suit and gain influence and bargaining power at the studios' expense), Santana was a money-loser and folded after seven films (five starring Bogart).
Tokyo Joe
was the first of his films for the company.
Bogie plays an ex-serviceman who returns to post-WW II Japan, where he had run a bar before the war. This is an okay film that fails to recapture the
Casablanca
mystique, but I rather like it. It doesn't make any of my best lists, but it feels like it had the elements to have been much better.
4:15 PM - Beat the Devil - 1953
http://www.youtube.com/watch?v=F5IFZSKimuM
A screwball caper, filmed in Italy, this was supposed to evoke memories of
The Maltese Falcon:
it doesn't. Directed by John Huston and co-written by Truman Capote, it's a muddled mess. There are some things worth watching, and it was the last time Bogart and Peter Lorre worked together, but it's quite a disappointing film, which is why it's in the public domain.
6:00 PM - In a Lonely Place - 1950
http://www.youtube.com/watch?v=CcMPHyOWjG4
Ah, that's better. Not one of Bogart's best known films from his star days, this is an excellent one, based on the best selling novel by Dorothy Hughes. Gloria Grahame is delightful as the female lead and Bogart's Dixon Steele is great. For a taut, suspenseful drama, this is just about Bogie's best. If you've never seen this movie, give it a watch. Bogart never quite played another part like this one. Bit of a hidden gem.
7:38 PM - The Luckiest Guy in the World - 1947
An Oscar winning short in the series, Crime Does Not Pay, I don't believe that this has any tie whatsoever to Bogart. Another thematic time filler, leading to...
8:00 PM - The Big Sleep - 1946
http://www.youtube.com/watch?v=VjJlBnfyiI4
Only Raymond Chandler's name stands alongside that of Dashiell Hammett's in the world of hard boiled noir.
Black Mask
writer achieved literary fame with his world weary private eye, Philip Marlowe. Bogart and Bacall teamed for this outstanding film. Certainly one of Bogie's best movies.
10 PM - Key Largo - 1948
http://www.youtube.com/watch?v=bs7Go24Rd8o
Another Huston/Bogart/Bacall film, with the great Lionel Barrymore and an Oscar winning performance from Claire Trevor. This is one of Bogie's best known films and features what I think is Edward G. Robinson's finest performance. And Robinson was a fine actor. If you've not seen this, you've missed out on a classic. Bogie and Robinson made five films together (four when Bogart was just a supporting actor) and all are worth at least one viewing. Bullets and Ballots is my favorite Bogie gangster flick.
11:45 PM - Stuff for Fluff
Some type of short documentary with no known Bogart tie.
12:00 AM - The Caine Mutiny - 1954
http://www.youtube.com/watch?v=2MeErathhsg
Based on Herman Wouk's novel, and shot with full cooperation from the navy, I love this film. It's got a fantastic cast and the court martial scene with Captain Queeg is perhaps Bogie's finest work. I am convinced that Tom Cruise's
A Few Good Men
drew on this movie. Perhaps the one Bogart film I most recommend to someone who hasn't seen it. Fred MacMurray is GREAT.
2:15 AM - The Left Hand of God - 1955
His third to last film, Bogart was clearly in ill health during the making of this one. Bogie plays a non-conventional priest in China. Gene Tierney, who suffered mental health issues, never forgot Bogart's support and kindness to her regarding this film. It's not bad and I kinda like it, but it's not one of the better films in this marathon. Worth a watch, though.
3:49 - Four Minute Fever
A non-Bogart related short on breaking the four minute mile barrier.
4:00 AM - The Harder They Fall - 1956
http://www.youtube.com/watch?v=hLWbbQcW5js
And the Bogart marathon comes to an end with his last film. He would die of cancer a half year after this was released. Bogie plays a boxing reporter who becomes sickened with Rod Steiger and the business. This was a bit of an expose of a popular untouchable sport (based on Budd Schulberg's novel).
A good film: I love Mike Lane's performance as a gentle giant in this one. And it's cool to see the contrasting acting styles of Bogart and Steiger.
SO...there you have it. There are many more Bogart films worth watching:
All Through the Night
,
Deadline USA
and
Conflict
are a few of my favorites among his less well known movies. and TCM's slate doesn't hit on the Warner gangster flicks of the thirties (often starring James Cagney or Robinson). But you can't go wrong with most of these films.
Really, what do I need to add to this picture?